.: A Reason To Believe :.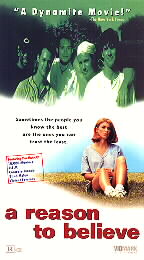 Holly plays the small, but pivotal, role of Sharon, who helps Wesley begin to see sexual relationships from the female's point of view. Wesley is in a bar with Jim, trying to get over Charlotte. Sharon picks up Wesley, and they go back to his room, along with Jim. Wesley and Sharon have sex, while Jim watches. Sharon passes out (or blacks out), and Jim has sex with her, too. The next morning, feeling that something is wrong, Sharon asks Wesley what happened the night before. When she realizes that she also had sex with Jim, Sharon becomes upset. At first, Wesley acts like it was no big deal. Sharon, however, says that she only wanted to have sex with Wesley, and that it is her right not to have sex with someone unless she wants to. Wesley recognizes how much Sharon has been hurt, and he begins to see Charlotte's rape in a new light.
Here's what the movie is about
Sorority gal Charlotte's innocence is lost after she is raped during a frat party. Confused, terrified and shunned by her peers, she finds solace and the courage to confront her attacker after she is befriended by the leader of a campus women's group. ~ Review by Sandra Brennan, at All Movie Guide.