.: Chain Of Desire :.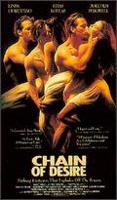 Holly plays Diana, a young woman who wants to lose her virginity. Diana is featured in two tableaux. Diana's first part is about half way through the film when she appears as a backup dancer to a singer in a cabaret. She then goes back to her apartment with the singer. The singer gives several reasons for not wanting to make love to Diana, including the fact that her first time should be special. Diana next appears at a gallery opening, pining for the singer. She is noticed by a famous painter, who takes her back to his studio.When she gets to the studio, Diana has second thoughts about having sex with the painter. The painter tries to seduce Diana, but all she can do is giggle. She slips from the painter's grasp and leaves. Diana's last part is at the cabaret, when the film brings all the characters together for the final scene. They listen to Alma ("Linda Fiorentino") sing a song, then the camera pans over New York City at night.
Here's what the movie is aboutTemistocles Lopez's Chain of Desire, based on Arthur Schnitzler's La Ronde, plays like an AIDS-era version of The Yellow Rolls Royce, in which a series of unrelated amorous lovers are connected by a "chain of desire." The film begins as Alma D'Angeli (Linda Fiorentino) flees from a lover and runs into a church, where she finds solace and a young Latino worker, Jesus (Elias Koteas). They make love. Then Jesus comes home to his wife Isa (Angel Aviles) and gets intimate with her. The next morning, Isa goes off to see Dr. Jerald Buckley (Patrick Bauchau), with whom she is having an affair. After seeing Isa, Jerald heads off to visit Linda (Grace Zabriskie), a sexy dominatrix. Linda returns home to her husband, Hubert (Malcolm MacDowell), a harried television commentator. After an unsatisfactory interview with women who claim to have had affairs with John F. Kennedy, he relieves his tensions by seeking the arms of Keith (Jamie Harrold), a teenage hustler. And the trail continues on as gay social worker Ken (Tim Guinee) offers Ken a place for the night, followed by Ken's lover David Bango (Dewey Martin) and hot dancer Diana (Holly Marie Combs), who wants David to deflower her. Coming on the scene after that is famed artist Mel (Seymour Cassel), who has a tryst with Diana, but he finds that he has to answer to his vindictive wife, Cleo (Assumpta Serna). At the end, all the characters arrive at a hip nightclub, where Alma, the singer at the club, has learned that the lover she had spurned at the beginning of the film has been diagnosed with AIDS. ~ Review by Paul Brenner, at All Movie Guide.