.: See Jane Date :.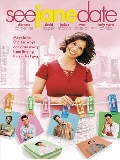 Holly plays Natasha Nutley. After gaining notoriety from a well-publicized one-night stand with a big celebrity, Natasha agrees to write her memoirs and is surprised to discover the publishing company has teamed her with her former high school rival, Jane Grant. Forced to work together, the two women reveal interesting and surprising insights into their differing lives.
Here's what the movie is about
Jane (Charisma Carpenter), a witty, young assistant editor at a publishing company, is thrilled when she is finally given a project that will, hopefully, earn her a much-deserved promotion. When she learns that the crucial project that she's been assigned is editing soap opera star Natasha Nutley's (Holly Marie Combs) memoirs, she is stunned. The beautiful actress happens to be Jane's former high school nemesis.

To make matters worse, Jane's cousin is getting married in a lavish ceremony and her Aunt Ina (Linda Dano), is relentlessly nagging her about who she plans to bring as a date. To satisfy her aunt and impress Natasha, Jane makes up the perfect boyfriend and brags about how great he is. With only a few weeks left before both the nuptials and the deadline for Natasha's book, Jane searches madly for a date. There is the handsome but somewhat aggressive Hank (Evan Marriott); Kurt (Eddie McClintock), a muscular guy she meets at the gym; Grant (Zachary Levi), who's boyishly cute but not too bright; the slightly insecure Kevin (Joshua Malina); do-gooder Gary (Cameron Mathison); and even Timothy (Antonio Sabato, Jr.), who is absolutely perfect – almost.

Her wild search for the ideal man and her new insight into Natasha's life, one that she always assumed was far better than her own, cause Jane to reflect on her own life and realize that sometimes the answers are closer than you think. ~ Review by ABC.