.: Sweet Hearts Dance :.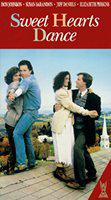 Holly plays Debs Boon, the middle child of the family. She doesn't have a very big part in this.
Here's what the movie is about
This gentle comedy-drama explores aspects of love and relationships by featuring two parallel tales, both occurring in the same Vermont town. In one, the boredom faced by a married pair of high school sweethearts leads to the destruction of their marriage. At the same time, their closest friend finally finds the love of his life. Review by Sandra Brennan, at All Movie Guide.