.: Walls Of Glass (Aka "Flanagan") :.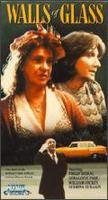 Holly only had a small part in this movie, she was a classmate of the main characters in a flashback.
Here's what the movie is aboutJames Flanagan, who is a New York taxi driver lives life to the fullest and really wants to become an actor. Flanagan recalls his idyllic visions as a youth. Now he is "trapped" in his taxi, He suffers through a broken marriage, has two teenage sons of his own, and not much luck at auditions. Things that go wrong seem to come in clusters, and one thing goes really wrong, so bad that he is almost ready to give up...